"Stained glass bird suncatchers for your windows ... handcrafted bluebird, cardinal, owl & hummingbird"

Welcome to...
SuncatchersDelight.com
"Beautiful Suncatchers to Delight the Eyes!"
All original handmade stained glass bird suncatchers by
the Contois Reynolds Stained Glass Magic Studio
of Hamlin WV and Spokane WA

Click below to email...

Stained Glass Birds Suncatchers!
Cardinal, Bluebird, Hummingbird, Owl & Dove

(Click any photo for more info)


BLUEBIRD Suncatcher
5.5" x 4.5"
$30



CARDINAL Suncatcher
7" x 3.5"
$30

---


HUMMINGBIRD Suncatcher
5.5" x 5.5"
$28



OWL Suncatcher
5.5" x 3.5"
$30 ... Available in blue, purple, or gold


(Click any photo for more info)
---


DOVE OF PEACE Suncatcher
7" x 5-1/2"
$24
Available in white with green leaves

These beautiful stained glass suncatcher birds may not take the place of the living creatures, but they will add a very lovely touch to any room...
---
Visit Our Stained Glass "Suncatchers" Galleries!

[MAIN SUNCATCHER GALLERY MENU]
[QUANTITY ORDERS]



[INFO STUFF]
[ABOUT CONTOIS REYNOLDS]
[HOME]
"Elegance in Original Stained Glass Since 1975"


All designs © Contois Reynolds - Worldwide rights reserved & protected by copyright law.
No reproduction allowed without expressed written permission.
Stained Glass Suncatcher Birds · Cardinals · Bluebirds · Owls · Hummingbirds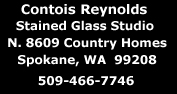 We Ship Nationwide!