Stained Glass Shinto Symbol Suncatchers!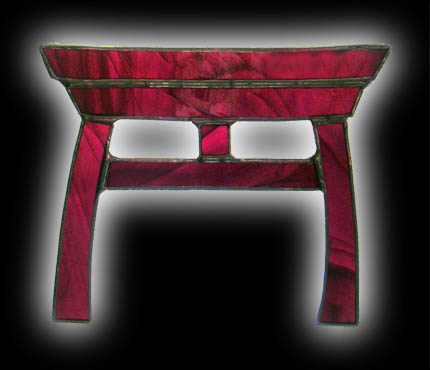 Shinto Symbol Suncatcher
5-1/2" x 4-1/2"
$28 ... Comes ready to hang
Available in blue, red, mauve/purple, or amber/gold

All designs are uniquely handmade so there may be a little variation from the photo.
Original design © Contois Reynolds - Worldwide rights reserved.


Shinto is the indigenous spirituality of the people of Japan. The word Shinto means "Way of the Gods", and unlike many religious philosophies, Shinto typically does not require professing faith to be a believer. There is no core sacred text in Shinto, as the Bible is in Christianity or Qur'an is in Islam, nor is there a founder. Instead there are books of lore and history which provide stories and background to many Shinto beliefs.

Shinto teaches that everything contains a "kami", or spiritual essence, which is commonly translated as god or spirit. The kami reside in all things, but certain places are designated for the interface of the common world and the sacred. There are natural places considered to have an unusually sacred spirit about them, and are objects of worship, such as mountains, trees, unusual rocks, rivers, waterfalls, and other natural edifices.

There are "Four Affirmations"in Shinto:

Tradition and the family: The family is seen as the main mechanism by which traditions are preserved.

Love of nature: Nature is sacred; to be in contact with nature is to be close to the Gods. Natural objects are worshipped as sacred spirits.

Physical cleanliness: Followers of Shinto take baths, wash their hands, and rinse out their mouth often.

"Matsuri": The worship and honor given to the Kami and ancestral spirits.

The Shinto symbol itself is called "Torii", and represents the gate to a Shinto shrine, and thus the Torii designates holy ground because it marks the boundary between the physical and spiritual worlds.

Information sources includes: Wikipedia

If this is a gift, you can download & printout the info above as a [Word.doc]
---
To safely place your order with your credit card, use our SECURE CART
Our [Privacy Policy & Guarantee] assures your satisfaction!
If you have any questions about shipping, colors, hanging, etc,
go to our [More Info Page] or call:
All selections come ready to hang
We Ship Nationwide!
Return to our...
[MAIN SUNCATCHER GALLERY MENU]



[INFO STUFF]
[ABOUT CONTOIS REYNOLDS]
[HOME]
"Elegance in Original Stained Glass Since 1975"
Click below to email...

All designs © Contois Reynolds - Worldwide rights reserved & protected by copyright law.
No reproduction allowed without expressed written permission.