"Handmade Stained Glass Suncatchers for Hanging in Windows ... Selling on the WWW Since 1996!"

SuncatchersDelight.com


"Colorful Suncatchers to Delight the Eyes!"
Handmade stained glass suncatchers, all original designs
by the Contois Reynolds Stained Glass Magic Studio
Handmade Suncatchers to Hang in Your Windows!

All of Our Original Designs Arrive Ready to Hang

(Click any photo below to see many more colorful selections in each suncatcher gallery)

Birds

Garden & Creatures

Religious

Native Amer


Fish

Love & Peace


Stars

Cats


Suncatchers make beautiful & meaningful gifts that can last a lifetime!


We Accept...







Ordering Is Safe & Easy!

You can either...

~ Go to our [SECURE SHOPPING CART] to safely use your credit card

~ Much of our work is also available for purchase via [Etsy.com] and at [AMAZON.com]

~ Order by phone at

or print our [ORDER FORM] to postal mail a check

~ Shipping is calculated based on the number of items you order [MORE SHIPPING INFO]

~ We very carefully pack every item to guarantee safe delivery!

~ All designs come [READY TO HANG], with heavy-duty fishline

~ Our [Privacy Policy & Guarantee] assures your satisfaction!

~ If you have any questions about shipping, colors, hanging, etc, go to our [More Info Page]

~ Please Note: Due to restrictions at our credit card processor we can no longer ship outside the USA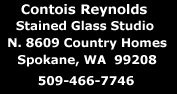 Click below to email...

All designs © Contois Reynolds - Worldwide rights reserved.
Absolutely no reproduction allowed without expressed written permission.



Elegance in Original Stained Glass Art Since 1975

· Handmade Hanging Stained Glass Suncatchers ·