If you are looking for a truly unique gift for a special friend or family member, you can consider hanging several stained glass suncatchers together to form a kind of "setting" ~ click to view an example of a [Suncatcher Grouping]

To safely place your order with your credit card, use our [SECURE SHOPPING CART]
You can also send your payment via [PAYPAL]
Much of our handmade work is also available for purchase at [ETSY.com] and at [AMAZON.com]
Order by phone at or print our [ORDER FORM] to postal mail a check
Our [Privacy Policy & Guarantee] assures your satisfaction!
If you have any questions about shipping, colors, hanging, etc, go to our [More Info Page]
All selections come ready to hang
Please Note: Due to restrictions at our credit card processor we can no longer ship outside the USA
VISIT OUR "SUNCATCHERS" GALLERIES!

Go to the...
[MAIN SUNCATCHER GALLERY MENU]

[Info Stuff]
[About Contois Reynolds]
[HOME]
"Elegance in Original Stained Glass Since 1975"

All designs © Contois Reynolds - Worldwide rights reserved & protected by copyright laws.
No reproduction allowed without expressed written permission.
· Handmade Stained Glass Suncatcher Gifts ·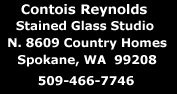 We Ship Nationwide!