Stained Glass Dove of Peace Suncatchers!
In addition to it's religious meaning as a symbol of peace, from the Biblical story of Noah's Ark, our genuine stained glass "Dove of Peace" is also a beautiful & meaningful condolences gift to anyone who has lost a loved one...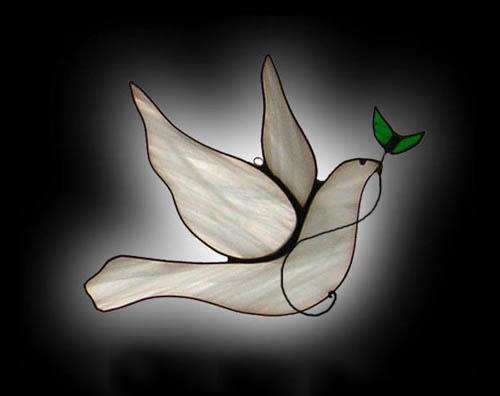 Dove of Peace Suncatcher
7" x 5-1/2"
$28 ... Comes ready to hang

(Larger version also available ~ 9-1/2" x 7" ~ $34)

Available in white with green leaves

All designs are uniquely handmade so there may be a little variation from the photo.
Original design © Contois Reynolds - Worldwide rights reserved.
Click to order at our secure cart...



Early Christians portrayed baptism accompanied by a dove holding an olive branch in its beak and used the image on their sepulchres as an allegory of peace. The symbol has also been found in the Christian catacombs of ancient Carthage, which date from the end of the first century AD. Christians derived the symbol of the dove and olive branch from the New Testament comparison between a dove and the Spirit of God that descended on Jesus during his baptism. [Mt 3:16]

In the Biblical Old Testament story of Noah and the Flood, a dove returns to Noah with a freshly plucked olive leaf [Gen 8:11]. By the fifth century, St Augustine of Hippo confirmed the Christian reading of the olive branch association with Noah, writing that, "perpetual peace is indicated by the olive branch that the dove brought with it when it returned to the ark."

Information source: Wikipedia

If this is a gift, you can download & printout the info above as a [Word.doc]

[Place Your Order Now]

Return to...
[Religious Suncatchers]
[Birds Suncatchers]
[Peace Suncatchers]
"The day the power of love overrules the love of power, the world will know peace."

~ Mohandas Gandhi
---
To safely place your order with your credit card, use our SECURE CART
Our [Privacy Policy & Guarantee] assures your satisfaction!
If you have any questions about shipping, colors, hanging, etc,
go to our [More Info Page] or call:
All selections come ready to hang
We Ship Nationwide!
Return to our...
[MAIN SUNCATCHER GALLERY MENU]

[INFO STUFF]
[ABOUT CONTOIS REYNOLDS]
[HOME]
"Elegance in Original Stained Glass Since 1975"
Click below to email...

All designs © Contois Reynolds - Worldwide rights reserved & protected by copyright law.
No reproduction allowed without expressed written permission.