Stained Glass Native American Inspired Suncatchers!
Thunderbirds, Bear, Turtle, New Mexico Sun


Click any photo on this page for more info about the design


New Mexico Zia Sun Suncatcher
8" x 8"
$45 ... Comes ready to hang



Turtle Symbol Suncatcher
5-3/4" x 6-1/4"
Available in gold, red & turquoise colors
$26 ... Comes ready to hang

---


Thunderbird Suncatcher ~ 1
6" x 7"
Available in golds, turquoise & red colors
$45 ... Comes ready to hang



Thunderbird Suncatcher ~ 2
8-1/2" x 5-1/2"
Available in golds, turquoise, red & pink colors
$45 ... Comes ready to hang


Click any photo on this page for more info about the design
---


Bear Symbol Suncatcher
6-1/2" x 4-1/2"
Available in gold with turquoise & red colors
$27 ... Comes ready to hang



Spirit Feather Suncatcher
2" x 7"
Available in blue, white, amber-gold, purple
$30 ... Comes ready to hang

"Treat the earth well.
It was not given to you by your parents,
it was loaned to you by your children.
We do not inherit the Earth from our Ancestors,
we borrow it from our Children."

~ Ancient Indian Proverb
---
Visit Our Stained Glass "Suncatchers" Galleries!

[MAIN SUNCATCHER GALLERY MENU]
[QUANTITY ORDERS]

[INFO STUFF]
[ABOUT CONTOIS REYNOLDS]
[HOME]
"Elegance in Original Stained Glass Since 1975"


All designs © Contois Reynolds - Worldwide rights reserved & protected by copyright law.
No reproduction allowed without expressed written permission.
Stained Glass Suncatchers Inspired by Native American Symbols · Thunderbirds · Bear · Turtle · NM Zia Sun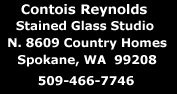 We Ship Nationwide!