Peace & Love Symbols


Click any photo on this page for more info about the design


DOVE OF PEACE Suncatcher
7" x 5-1/2"
$28 ... Comes ready to hang
Available in white with green leaves



LOVE DOVE Suncatcher with 2 Hearts
5.5" x 6.5"
$34 ... Comes ready to hang

Available as white dove with 2 red heart

---


LOVE DOVE Suncatcher
5.5" x 6.5"
$33 ... Comes ready to hang
Available as white dove with red heart



WINGED HEART Suncatcher
7" x 5.5"
$30 ... Comes ready to hang
Available in red with gold wings

---


ROSE Suncatcher
6.5" x 3"
$20 ... Comes ready to hang
Available in red, pink, purple, white, or yellow




LOVEBIRDS Suncatcher
5" x 6"
$33 ... Comes ready to hang

Available in a variety of colors ~ dark blue & light blue ;
dark mauve & light mauve ; dark gold & pale gold

---


YIN YANG Suncatcher
5-3/4" Diameter
$33 ... Comes ready to hang

Available in streaky white & black
or the traditional white & solid black


PEACE SIGN Suncatcher
5-3/4" diameter
$44 ... Comes ready to hang
Available in blue, purple, or amber-gold
(with streaky clear background)


---


RAINBOW Suncatcher
7.5" x 4"
$45 ... Comes ready to hang
Available in colors shown above


ROMANTIC HEART Window
10 inch diameter
$120 ... Comes ready to hang
Red heart with red, blue or gold border

PLEASE NOTE:
Due to the larger size and weight, the shipping
for this design is $20, not the regular suncatcher charge.
"Love is that condition in the human spirit so profound that it allows me to survive, and better than that, to thrive with passion, compassion, and style."

~ Maya Angelou
---

Click any photo on this page for more info about the design
---
Visit Our Stained Glass "Suncatchers" Galleries!

[MAIN SUNCATCHER GALLERY MENU]
[QUANTITY ORDERS]

[INFO STUFF]
[ABOUT CONTOIS REYNOLDS]
[HOME]
"Elegance in Original Stained Glass Since 1975"


All designs © Contois Reynolds - Worldwide rights reserved & protected by copyright law.
No reproduction allowed without expressed written permission.
"Darkness cannot drive out darkness: only light can do that.
Hate cannot drive out hate: only love can do that."
~ Martin Luther King, Jr.
· Handcrafted Stained Glass Dove, Yin Yang, Peace Sign, and Rainbow Symbols of Peace Suncatchers ·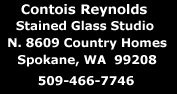 We Ship Nationwide!