Stained Glass Sacred Lotus Flower Suncatcher!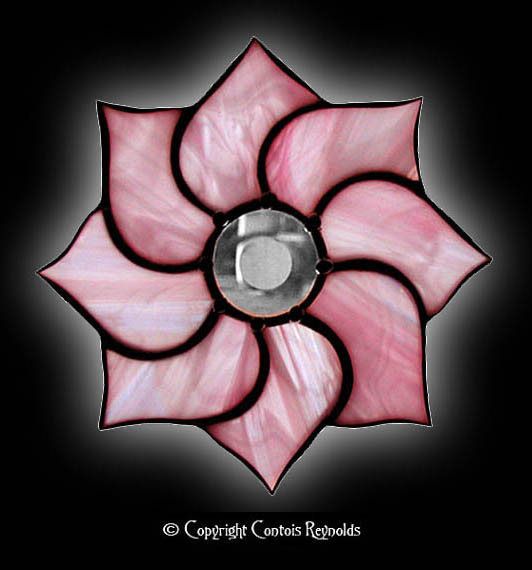 Sacred Lotus Flower Suncatcher
6-1/2" diameter
$32 ... Comes ready to hang
Available in pink, white, blue, or purple, with clear central bevel

All designs are uniquely handmade so there may be a little variation from the photo.
Original design © Contois Reynolds - Worldwide rights reserved.
Click to order at our secure cart...


The lotus flower is viewed as a sacred flower by Buddhists (the Buddha is often depicted sitting on a giant lotus blossom), Hindus, and the ancient Egyptians. A lotus flower normally has eight petals, which corresponds to the Eightfold Path of Good Law.

The reason for this sacred status has to do with the lotus ability to rise and bloom above the muddy water, which is a symbol of achieving enlightenment in the midst of our daily existence.

The second meaning is purification ~ it resembles the purifying of the spirit which is born into "murkiness".

The flower color has importance to the meaning of the lotus flower in Buddhism:

White Lotus ~ Symbolized bodhi (Sanskrit for enlightenment). It symbolizes a pure body, mind and spirit, along with spiritual perfection and a pacification of one's nature.

Blue Lotus ~ Symbolizes the control of the spirit over one's material senses. It also symbolizes knowledge, wisdom and intelligence.

Pink Lotus ~ The supreme lotus, it is often associated with the highest deity, the Buddha himself.

Purple Lotus ~ Known as the mystic lotus, and is only represented in a few esoteric Buddhist sects.

Information source: BuddhaStation

If this is a gift, you can download & printout the info above as a [Word.doc]

[Place Your Order] [Return to Religious Suncatchers]

---
To safely place your order with your credit card, use our SECURE CART
Our [Privacy Policy & Guarantee] assures your satisfaction!
If you have any questions about shipping, colors, hanging, etc,
go to our [More Info Page] or call:
All selections come ready to hang
We Ship Nationwide!
Return to our...
[MAIN SUNCATCHER GALLERY MENU]

[INFO STUFF]
[ABOUT CONTOIS REYNOLDS]
[HOME]
"Elegance in Original Stained Glass Since 1975"
Click below to email...

All designs © Contois Reynolds - Worldwide rights reserved & protected by copyright law.
No reproduction allowed without expressed written permission.