Stained Glass "Latin Cross" Suncatchers!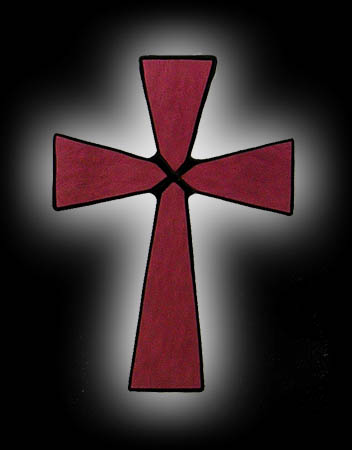 Christian "LATIN CROSS" Suncatcher
4-3/4" x 6-3/4"
$24 ... Comes ready to hang
Available in blue, purple, gold, or white
All designs are uniquely handmade so there may be a little variation from the photo.
Original design © Contois Reynolds - Worldwide rights reserved.


The symbol of the cross has a number of variations, depending on location and the specific meaning to various branches of the Christian faith. The "Latin Cross" (sometimes referred to as the "Western Cross") is the most common symbol of Christianity, almost always emphasizing the resurrection of Jesus (when the representation includes the body of Christ, it is more accurately referred to as a "crucifix"). Also, as a symbol of the Trinity, the three shorter sections represent the Three Persons of the Trinity and the longer, lower portion signifies the One Divinity.

From an historical and anthropological point of view, crosses are in fact one of the first symbols drawn by children of all cultures. There are many cross-shaped incisions in European caves, dating back to the earliest stages of human cultural development in the stone age.

Information source: Wikipedia and Seiyaku

If this is a gift, you can download & printout the info above as a [Word.doc]
---
Special Discounts Available for...
[Group Orders]
---
To safely place your order with your credit card, use our SECURE CART
Our [Privacy Policy & Guarantee] assures your satisfaction!
If you have any questions about shipping, colors, hanging, etc,
go to our [More Info Page] or call:
All selections come ready to hang
We Ship Nationwide!
Return to our...
[MAIN SUNCATCHER GALLERY MENU]

[INFO STUFF]
[ABOUT CONTOIS REYNOLDS]
[HOME]
"Elegance in Original Stained Glass Since 1975"
Click below to email...

All designs © Contois Reynolds - Worldwide rights reserved.
No reproduction allowed without expressed written permission.