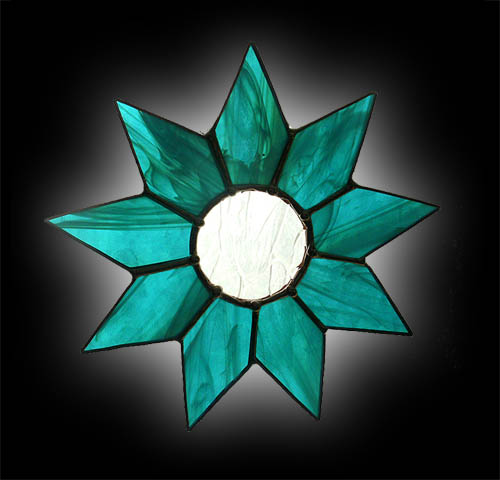 9 Pointed Star Suncatcher
7-1/2" Diameter
$35 ... Comes ready to hang
Available in teal (pictured), sky blue, cobalt blue, purple, or gold

All designs are uniquely handmade so there may be a little variation from the photo.
Original design © Contois Reynolds - Worldwide rights reserved.
Click to order at our secure cart...


The 9 Pointed Star is also known as the "Enneagram", which comes from the Greek word ennea (nine) & grammos (to be written or drawn).

The Baha'i faith has reverence for the number 9 for various reasons. It is considered by those who are interested in numbers as the sign of perfection, that is, being the largest single digit number, nine is considered a symbol for completeness and wholeness. Also it is the numerical value of the word "Bahá?".

The symbol can also represent the nine great world religions: Baha'i, Buddhism, Christianity, Hinduism, Islam, Jainism, Judaism, Shinto, and Sikhism.

In the Christian faith, the nine-pointed star symbolizes the nine fruits of the Spirit listed in Paul's Epistle to the Galatians (5:22): love; joy; peace; patience; kindness; goodness; faithfulness; gentleness; self-control.

Information source: Wikipedia

If this is a gift, you can download & printout the info above as a [Word.doc]

[Place Your Order Now]

Return to...
[Religious Suncatchers]
[Stars Suncatchers]