Stained Glass Christian "Trinity Symbol" Suncatchers!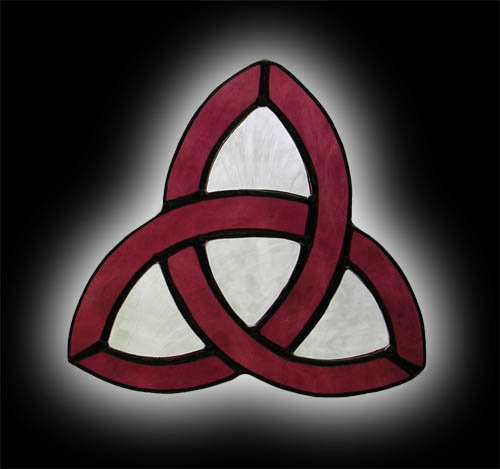 Christian Trinity Symbol Suncatcher
6-3/4" x 6-1/4"
$40 ... Comes ready to hang
Available in blue, purple, or gold

All designs are uniquely handmade so there may be a little variation from the photo.
Original design © Contois Reynolds - Worldwide rights reserved.


The Triquetra symbol has been used by Christians as a sign of the Blessed Trinity, especially since the Celtic Revival of the 19th century. It is a three-part interlocking fish symbol that symbolizes the belief that God is one Being made up of three distinct Persons who exist in co-equal, co-eternal communion as the Father, Son and Holy Spirit.

The triquetra has been used extensively on Christian sculpture, vestments, book arts and stained glass. It has been used on the title page and binding of some editions of the New King James Version. The triquetra is often found in metal work and in illuminated manuscripts like the Book of Kells. It is also found in similar artwork on Celtic crosses and slabs from the early Christian period.

Information source: Wikipedia

If this is a gift, you can download & printout the info above as a [Word.doc]
---
To safely place your order with your credit card, use our SECURE CART
Our [Privacy Policy & Guarantee] assures your satisfaction!
If you have any questions about shipping, colors, hanging, etc,
go to our [More Info Page] or call:
All selections come ready to hang
We Ship Nationwide!
Return to our...
[MAIN SUNCATCHER GALLERY MENU]

[INFO STUFF]
[ABOUT CONTOIS REYNOLDS]
[HOME]
"Elegance in Original Stained Glass Since 1975"
Click below to email...

All designs © Contois Reynolds - Worldwide rights reserved & protected by copyright law.
No reproduction allowed without expressed written permission.